Guitar Lessons, Piano Lessons, & Performances.
At In Tune With You, I am very passionate about creating music of quality and do my best to encourage my students to strive for excellence.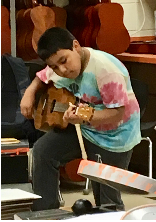 There are a lot of excellent guitar teachers and music schools out there; however, you will want to make sure you find one that is dedicated, passionate, and skilled in effective communication and patience.
There is much more involved in playing an instrument than simply learning songs. There is also a big difference between playing adequately and playing passionately.
Whatever your goals are as a player, you can count on my instruction to help you get there. It's about providing you with personal attention and constructive criticism - that's how you make gains and become a better player. As a life-long learner myself, I empathize with the common struggles that are inevitable when a student is developing skills.