It was as a toddler on grandfather's knee that I enjoyed my first musical experience. He made a noble attempt to reveal to me the secrets of the melodic pathways that he had proudly discovered by ear on the antique upright pianoforte in his small Wildwood, NJ hotel. However, the best that I could retain in my miniature cranium was how frustrated I felt to not be able to reproduce the sequential patterns that he demonstrated. He resigned with a sigh that he would try again when I was older. The problem I had with that plan was that I only was able to see him once or twice a year because we lived in South Florida.
Except for an occasional scratched record spun on a player with a dull needle whose infidelity included more pops and skips squeaking out of a three inch speaker than all the firecrackers lit by juveniles on the Fourth of July, and a "discarded" second grade music book that my school teacher gave me, my early musical educational experience endured a prolonged void of musical instruction. Although, I did not lament because I did not know what I was missing.
Then the highlight of my sixth grade year was to begin taking piano lessons with a very talented, but ancient gray haired saint named Ms. Mabel who my mother had met at our church. The two dollar per hour lessons afforded her a short reprieve from a week of loneliness, some under appreciated knowledge with a little finger dexterity development for me, and a coveted guarantee of an hour's relief from sibling drama for my mother as she could now append my list of daily chores with an unnegotiable banishment to the piano bench. I obeyed, however I did not usually practice the prescribed lesson assignments.
I preferred rather to compose my own music. Improvising gave me an opportunity to employ her music theory instruction more than the less enjoyable task (for me at least) of sight reading. Two years later, her family moved her far from us to give her personal care in their home.
Then when our piano was removed from the house I turned to my sister's neglected guitar to release my musical expression. The timing worked out perfectly for me because the school I began to attend offered class guitar lessons. I was an enthusiastic learner. Sometimes I would wake up in the morning to find it laying beside me or on my chest, because I had played so late into the night that I fell asleep with it in my arms.
Around this same period, our family began attending a new church where the service included a lot of music and the leadership generously encouraged budding musicians to play along with the church band while sitting in the pews near the platform. My zeal for playing caught the attention of a woman who offered to sell me her higher quality guitar for a very reasonable price. My parents helped me to purchase it and having a better guitar fast tracked my skill development.
With three years of lessons under my belt, I had enough of a foundation that I could pick up things very quickly from other musicians at our church. This was during the 1970's and there were many former hippies who attended. It was popular to wear sandals, long hair, wear bell bottom pants, tie dye shirts, and play the guitar so it was a rich environment in which for me to be so deeply immersed.
As a working teenager at a fast food restaurant, I was able to afford to pay for my own piano lessons. Eventually, I enrolled at Palm Beach Atlantic University as a piano major, but my lack of quick sight-reading skills frustrated me. So at the invitation of Mr. David Skantar, the guitar professor, I changed my major to "classical guitar performance." I received a valuable education, but there were very few options for employment and I did not think that I was emotionally (or financially) ready to earn a masters degree in performance (although now I regret not doing it).
Then sometime in 1989 my grandfather called me up to say, "I had a dream last night. In my dream God told me that you are to go back to school because He wants you to be a teacher." Shocked at hearing this, I tried to interrupt with, "That's interesting Grandpop because He never said anything about that to..." But he continued aggressively, "...And I'm going to pay for it." Immediately, I confessed that I heard the Lord's calling (tongue-in-cheek). I did return to school and he did keep his word to finance it. And so I was able to begin my public school career in 1994.
I can only estimate the number of elementary children that I have been privileged to influence in all the various schools where I taught to probably be at least fifteen thousand different children.
For the first decade I taught the model that I learned in college. Then I began to realize the necessity for me to change with the culture to make the music more engaging to the children who were not conditioned to the traditional protocol. Then through my studies in ethnomusicology at Liberty University I learned that most of the world does not teach music like a science or math class with a routine of 1- present the objective, 2- review previous knowledge, 3- lecture on the concept, 4- demonstrate the skill, 5- have the students practice the skill, 5- assess the student's comprehension, and 6- review the objective and answer any questions.
While this approach is quite measurable many of the children are not successful and all the students miss out on the joy of musical experimentation and self discovery through improvisation even at a low skill level. This is why I no longer adhere to the traditional model of classroom teaching because I want the children to be able to produce music that they can "own" as quickly as possible. I try not to discourage the student with heavy academic standards. Rather, I attempt to guide them to make music that they enjoy producing.

The lesson procedures listed above are effective, but (in my opinion) they must not stifle the opportunity for the student to enjoy musical exploration and discovery.
I believe that the teacher must maintain a balance that is sensitive to the child's essence and personality while challenging his or her continued development towards a higher level of achievement.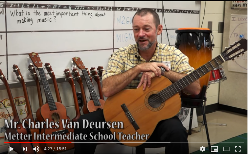 My Present Story

(Click

here

to learn about this website.)
Performing music well for an appreciative audience is a most satisfying experience. It's something that I take rather seriously at In Tune With You, yet I do it in a creative and enjoyable way.