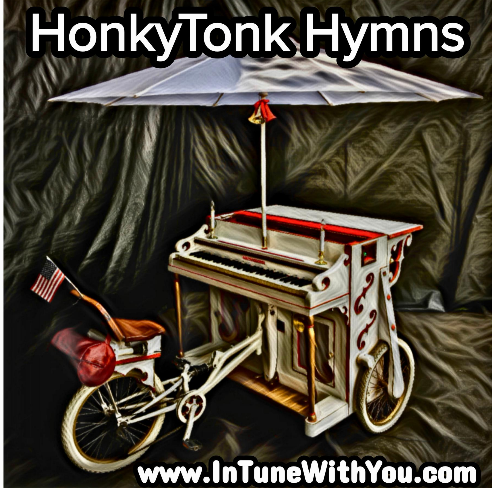 Breaking News!
Recently after eighteen months of not performing live, I began working to improve the prospect of entertaining audiences again with my Triano. To achieve this end I set four main goals: to assemble an appropriate repertoir of music, produce an album of the songs, build a trailer to haul it, and repair my truck to pull it.
Goal 1: Live audiences had always expressed enthusiasm for my renditions of the hymns. So I began choosing and experimenting with tunes that typified late nineteenth century hymnology. Actually, for years while accompanying congregational singing at my church, I had been trying to minimize the characteristic of how many of them sounded quite like carnival tunes, but now on the honkytonk piano I am taking it to the other extreme by exagerating that precise sound. I have done this by speeding up the tempo, adding new chords, changing the time signature, and by adding arpeggios, syncopated rhythms, and trills.
Goal 2: Now I am excited to announce that soon I will be releasing my new album called "HonkyTonk Hymns". It contains thirty-two classic melodies including two medleys of three songs each (so actually there are thirty-six songs in total). It will also include the entire sixteen song album "The Struggle". You can enjoy all fifty-two songs for $15.00 plus ($5.00 for shipping and handling if mailed (only in the contiguous USA)).
"HonkyTonk Hymns" will also be available on all the streaming services around the world on July 16, 2021.
Goal 3: I have been learning how to cut and weld metal bed frames on to a 1950s era boat trailer to dedicate it to only being used to haul and store the Triano.
Goal 4: A couple of weeks ago my transmission quit working so that is now another obsticle for me to overcome. It quit working on my way to my church. The only gear that continued to work was reverse. So I had to drive backwards all fifteen miles to return home.
Listen to samples on my facebook page.
.
Here is a list of the thirty-two songs on the album:
1. Medley (Are You Washed in the Blood, There's Within My Heart A Melody, When We All Get To Heaven)
2. This Train
3. At The Cross
4. The Lily of the Valley
5. Bless That Wonderful Name of Jesus
6. Just A Closer Walk With Thee
7. Glory, Glory, Hallelujah
8. Faith Is the Victory
9. I Know Whom I Have Believed
10. Medley (Amazing Grace, Swing Low Sweet Chariot, When the Saints Go Marching In)
11. Down At the Cross
12. I Love To Tell the Story
13. Leaning On the Everlasting Arms
14. My Jesus I Love Thee
15. Oh How I Love Jesus
16. Praise Him! Praise Him!
17. Sweet By and By
18. To God Be the Glory
19. Only Trust Him
20. Oh Happy Day
21. When the Roll Is Called Up Yonder
22. Wonderful Words of Life
23. There Is Sunshine In My Soul
24. We Have Heard the Joyful Sound
25. 'Tis So Sweet To Trust In Jesus
26. What A Friend We Have In Jesus
27. Love Lifted Me
28. Mine Eyes Have Seen The Glory of the Coming of the Lord
29. Holy, Holy, Holy
30. A Wonderful Savior
31. Near the Cross
32. All To Jesus I Surrender
All the original melodies are public domain, but my renditions of them are not.
Announcing My New Album: HonkyTonk Hymns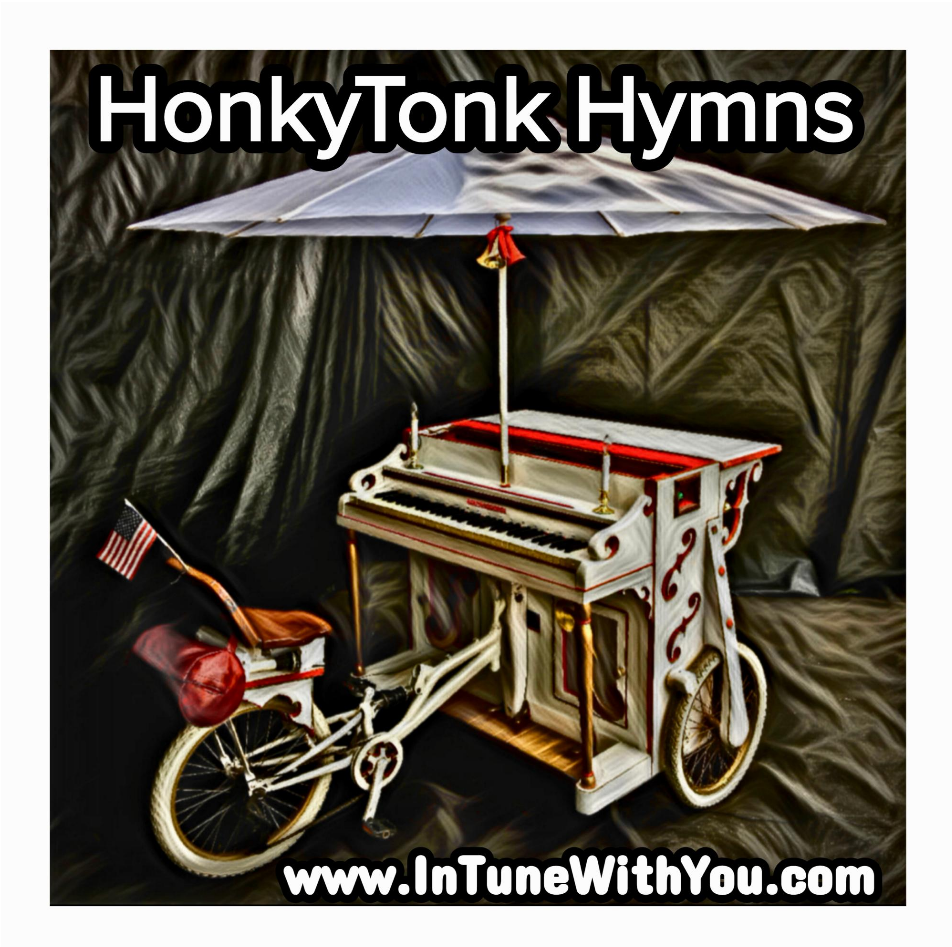 The release date on all streaming service providers of my album "HonkyTonk Hymns" is July 16. It features 32 classic hymn melodies played in the honky tonk solo piano style.