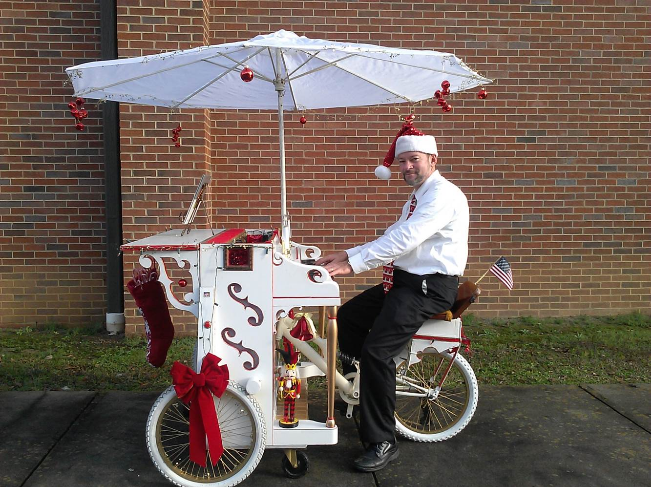 While visiting the now defunct theme park: "Boardwalk and Baseball" in Central Florida, one summer in the mid 1990's I observed a man performing ragtime music while sitting on a unicycle seat that was attached to a cocktail piano (which has a keyboard with only 56 keys rather than 88). It intrigued me and so I began searching for an appropriate piano to customize. After a decade of searching I finally found one buried among assorted used appliances, plastic plants, and stuffed animals in a Reidsville, Georgia thrift store for $100. I was excitedly perplexed. I had just recently lost my job and I couldn't justify the seemingly imprudent purchase, but then the owner agreed to accept one half of the price. I knew at once that I would never find another one like it so I brought it home. I was determined to prove right away that it was a worthy investment.
There are no photos of its poor condition when I purchased it, but this another piano of mine that looks similar to how it looked back then.
.
.
.
.
.
.
.
.
.
.
The first thing I did was to clean out all the evidence of unwelcomed critters and paint it white.
.
.
.
.
.
.
.
.
.
.
.
.
It remained that way for five years until I learned that a 1940s era movie was going to be filmed in nearby Savannah, GA. I thought that if I were to play war time music instrumentals on a street corner, I may get "discovered." After the Triano's completion, however, I lost interest in the idea (actually I "chickened-out").
.
.
.
.
.
.
.
.
.
.
.
.
Then a year later, in an attempt to inspire my then 916 students at Metter Elementary School, I pedaled it through the Metter Christmas parade. Upon my gained popularity stemming from that experience, I decided to pedal it in the Cobbtown Christmas parade, the Claxton Christmas parade, and again in the Metter parade the following year. The seven foot wide umbrella that my mother made me, saved it twice from sudden and unexpected downpours.
Weary of pedaling it on the road and unable to find suitable venue or adequate storage (I could not get it back into my house without removing the double sliding glass doors), I built a box to store it in. It remained locked away for another five years. In October 2019 the music/youth minister at Rehoboth Missionary Baptist Church suggested that the bikers whom were participating in the "Cruisin' in the Country" event may find the triano entertaining. The church was a designated rest stop for the riders to be refreshed as they passed by on their 99 mile course. I brought it out and the bikers' expressed enthusiasm when they saw it and heard me pedal and play it on the road encouraged me so much that I entered it in the "Festive Five Competition" at the Statesboro Mall on 11/22/19.
Between these two events I also took the Triano to my elementary school to help convince children to participate in the "Fall Reading Carnival," an event designed to promote literacy among the students. I did receive a positive response from the small audience (Friday night football playoffs are king in southeastern Georgia), but it has remained in the box now to the present time.
I have more ideas that I am gradually implementing, such as a battery powered sound projection system and lights.
My current main project is to convert a 1950 boat trailer by welding the angle iron from discarded bed frames to it so that I may more easily be able to transport and store the Triano.
.
.
.
.
.
.
.
.
.
I am still seeking a suitable venue where I may be able to perform it regularly. I am thinking about making a small circuit of parks around my area to perform for the local residents.
.
Click here if you have a suggestion or if you would like to offer any free advice that would lead to a place where my playing it would serve an appreciative audience.